No Time for Autopilot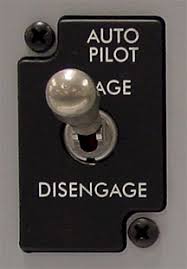 By Dr. James H. Furr, President and Professor of Church and Culture, Houston Graduate School of Theology I lived in West Texas for a few years when I was in my twenties. Surely, the "cruise" feature of an automobile was ideally designed for those long straight stretches of highway. I could set it, sit back, and casually watch for the occasional armadillo crossing. In Houston, by contrast, inattention to traffic conditions for a few seconds can be life threatening.
This reminds me of the way Christians are called to discern what is right and wrong, wise and foolish, in our cultural contexts. Where and how is God at work in creation and what does that mean for us? We often hear people describe culture as a completely benign environment where we are naturally guided to become our best selves. Or, we hear someone ranting as though everything in the world is so evil that merely inhaling contaminates our souls. The attraction to put our assessment of church-culture dynamics on autopilot, to over-simplify our social settings as all good or all bad, is compelling. We know better than to frame every perception as either/or, but both/and requires so much more sensitivity and effort.
In our Culture and Context course at HGST, we review the ways the word "world" is used in the Bible and find the term to refer both to the place that God created and continues to reconcile—"for God so loved the world"—and the evil that challenges God's intent—"be not conformed to this world." As usual, the shortcuts of selective reading and emphasis are perpetually tempting.
In his book, A Public Faith, Miroslav Volf succinctly describes a better disposition. He contends, "There is no single way in which Christian faith relates and ought to relate to culture as a whole….The relation between faith and culture is too complex for that. Faith stands in opposition to some elements of culture and is detached from others. In some aspects, faith is identical with elements of culture, and it seeks to transform, in diverse ways, yet many more. Moreover, faith's stance toward culture changes over time as culture changes" (xv).
Current commentators routinely note the acute levels of factionalism and social tension in our society. Surely, the discipline of discernment is vital these days as we experience the pressure to align ourselves permanently and unilaterally with the "right" causes, leaders, political parties, theological camps, and so forth. We praise God that there are eternally appropriate affirmations, such as "Jesus is Lord," but the more closely we attend to temporal conditions and circumstances the more we must watch the road in order to follow the Spirit.
Perhaps the best advice is to glance up for inspiration and direction, look all around for signs that inform faithful decisions, and drive responsibly.